The next BIG step:  MountainsSPIP® 8
Exclusive for SPIP customers: Get a nine-month MountainsSPIP®  license for FREE

Together with our colleagues at Digital Surf *),  we have developed and released the new MountainsSPIP® 8 to bring you the next generation of SPM image analysis software, based on the industry-standard Mountains platform and all the best SPIP interactivity and analytical tools.
MountainsSPIP 8, was first time unveiled at the MRS Fall Exhibit in Boston November 2018 where it attracted great interest.
It is now available for download: Download the MountainsSPIP software
Please watch our presentation video on MountainsSPIP®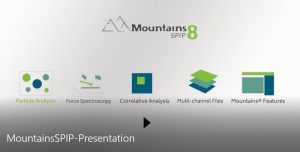 Significant MountainsSPIP® benefits
Existing SPIP users will benefit from the following new features not found in SPIP:
Scientific software with a document layout: Organize the different steps of your image processing on one or several pages and publish them directly in different formats (PDF, Word etc.).
Total traceability: See all the analysis steps already applied to your data and instantly revert back to any step in the process. If you edit any step, all dependent steps are automatically updated.
Save your work and pick up where you left off last time.
Automate repetitive work and speed up your analysis process with powerful tools.
Correlative Analysis: Go beyond the limitations of one single instrument technology and combine data from 3D optical profilers, AFM, SEM, fluorescence, Raman, IR or other microscopes.
Multi-channel file management & processing: switch easily from one channel to another during each and every stage of image analysis. 
All users can take advantage of the unique functions already valued by our SPIP customers:
Force spectroscopy: visualize, process and study force curves and force volume images.
Particle analysis: easily detect and quantify features of any shape and size on virtually any surface.
Lateral Calibration: Get the most accurate measurement of repeated structures and assess your instrument for linearity distortions
Correlation Averaging: The best tool for suppressing random noise and enhance repeated structures
Compatibility with all scanning probe microscopes: SPM, AFM, STM, SNOM, etc. and also with ANY other microscope or surface measuring instrument like scanning electron microscope, confocal microscope, 3D optical profiler, ...
etc.
Learn more about MountainsSPIP® key features here. 
MountainsSPIP® comes in three packages,  Starter, Expert and Premium. Learn about the MountainsSPIP® packages
Time limited SPIP™ - MountainsSPIP® offer:
If you are an SPIP customers that had an active SPIP maintenance service June 30, 2019  you will be entitled to an upgrade to this new product, absolutely free of charge.
You can choose to receive an extra MountainsSPIP® license in addition to your SPIP license and will be able to use both licenses for a full year! Please read more details below.
So, if you are considering purchasing SPIPTM or MountainsSPIP® or updating an existing SPIPTM license this is the best time to do so, because you will get access to both products for an attractive price.
Who will receive an extra free One-Year MountainsSPIP® 8 license?
All SPIP customers having purchased a SPIP licenses between September 1st 2018 and June 30, 2019
All SPIP customers having updated their SPIP maintenance service between September 1st 2018 and June 30, 2019
All SPIP customers having an active SPIP maintenance service on the release date of MountainsSPIP 8.0, July 12, 2019
How to receive an extra free Nine-Month MountainsSPIP® 8 license
If you are not entitled to the one-year MountainsSPIP license you can still receive a nine month license by purchasing or updating a SPIP license before September 30, 2019.
Please find more license information on the MountainsSPIP FAQ page.
SPIP maintenance service benefits include:
Free updates to the latest versions as they are released
Premium technical support
We would be happy to answer any questions you may have, so please do not hesitate to contact us.
The Story behind MountainsSPIP®
CEO Christophe Mignot, Digital Surf, explains in an interview the history behind MountainsSPIP®
*) Image Metrology and Digital Surf are part of the same group since July 2014. Together we are developing the next generation software for SPM analysis and image processing.