ImageMet Explorer - Preview SPM Images
The ImageMet Explorer™ is a thumbnail browser for the more 100 different file formats supported by SPIP™, and is an indispensable tool for previewing and selecting data for analysis in SPIP™.
The ImageMet Explorer is a fast optimized browser for previewing especially SPM files.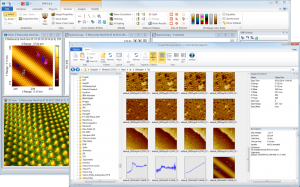 A thumbnail view with instantly resizable icons makes it easy to explore large collections of image files. A detail view with micro thumbnails and basic image information in rows makes it easy to overview sorted files.
Basic information, such as scan size, data type etc., and experimental details ( e.g. Gap Voltage and Set-point for STM images)  for a selected object are displayed in well-ordered panes.
Sorting and selecting
Sorting can be carried out on an extend­ed set of basic parameters, and is also available on layer/channel number. When multi-image or multi-curve files (e.g. 8-channel Nanoscope files) are expanded and sorted on channel number it easy to select a specific channel across many files, for example  for Batch Processing.
Quickly identify image type
The positions of single point spectrosco­py curves (STS/SPS) are displayed in the corresponding thumbnail images, and volume images (grid spectroscopy, force maps etc.) are indicated with a small intuitive hint. Force curves and other curves are of course displayed as curves.
Multi channel or multi image files
The ImageMet Explorer shows multi image files (e.g.  Nanoscope files) as special expandable thumbnails showing the first up to four channels. When these thumbnails are expended all channels are displayed and they can be opened individually for analysis in SPIP™. This can even be done across several multi-channel images, and has the advantage that only selected relevant channels are opened in SPIP™, making the following analysis work easier and the workspace more tidy.
Many of the features and optimizations are of particular importance to users of Omicron systems SPM's as the ImageMet Explorer provides the fastest tool ever for exploration of MATRIX result files, making it easier to select data for analysis.